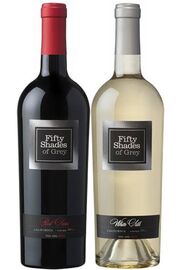 "Wine plays an important role in Fifty Shades of Grey, adding to the sensuality that pervades a number of scenes," said EL James
 of her new venture. "I've always had a penchant for good wine, so combining two of my passions to blend Red Satin and White Silk was a natural extension of the series. I hope my readers curl up with a glass as they enjoy the romance between Anastasia and Christian."
If the wine is as good as the book then lets all grab a glass... It is said that the red silk wine taste like black cherry, cocoa powder, creamy caramel and vanilla and lets not forget leather, yes.. you will taste leather and the clover spice; the white silk taste like lychee, honey, grapefruit and butterscotch mmmmm... sounds enticing
To read more about the wine: http://www.cosmopolitan.com/celebrity/news/fifty-shades-wine
Ad blocker interference detected!
Wikia is a free-to-use site that makes money from advertising. We have a modified experience for viewers using ad blockers

Wikia is not accessible if you've made further modifications. Remove the custom ad blocker rule(s) and the page will load as expected.