When it was announced that
Charlie Hunnam
would take on the role of
Christian Grey
in the movie adaptation of "Fifty Shades of Grey," it seemed like a bit of a surprise. While he was one of the rumored names, Hunnam is mostly known as the rough-edged biker from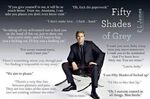 "Sons of Anarchy."
With that in mind, Zap2it hit the red carpet for "Sons of Anarchy's" Season 6 premiere to talk to the cast and crew of the show, in an effort to find out what it is they think he brought to the audition that won him the role. From executive producer Paris Barclay to Kim Coates and Maggie Siff, everyone in attendance was excited about the upturn in Hunnam's career.
They're also all very confident that Charlie will excel in the role. There's a lot of love among the "Sons of Anarchy" cast, and they have nothing but nice things to say about his acting skills.[1]
Clip
Warning: The link to the video contains strong language!!!
Ad blocker interference detected!
Wikia is a free-to-use site that makes money from advertising. We have a modified experience for viewers using ad blockers

Wikia is not accessible if you've made further modifications. Remove the custom ad blocker rule(s) and the page will load as expected.