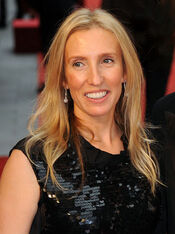 EL James tweeted
today that the film adaptation you've been waiting for has found a director in Sam Taylor-Johnson, who directed the John Lennon biopic Nowhere Boy. It's a bit of an odd choice, but I think it's also an exciting one that in a way proves Universal and Focus Features are willing to take some chances with the film.
Next on the docket is casting. While rumors about potential cast members have been circling around the internet since the film's announcement, nothing has yet been confirmed.
Are you happy with Taylor-Johnson as director? What actors would you like to see her direct? Let us know in the comments.
---
---
Ad blocker interference detected!
Wikia is a free-to-use site that makes money from advertising. We have a modified experience for viewers using ad blockers

Wikia is not accessible if you've made further modifications. Remove the custom ad blocker rule(s) and the page will load as expected.