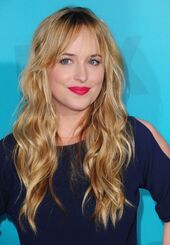 So far we only know that Fifty Shades of Grey is coming out in 2014 and that the director is Sam Taylor-Johson, but today we finally got some inkling of where the casting might be going! Hypable announced that Dakota Johnson is in the running for the role of Anastasia Steele!
Johnson hasn't had a lot of breakout roles so far, but she was Amelia Ritter in The Social Network and was the lead in the Fox television comedy Ben & Kate. What do you think? Anastasia is supposed to be an average 22-year-old with delicate features such as long, dark brown hair, pale skin, big blue eyes, full lips and an upturned nose. She is supposed to be pretty but not TOO pretty.
Johnson looks like she could fit the part but we're still holding out for fan favorite Alexis Bedel!
In other casting news, "Pacific Rim" star Charlie Hunnam is apparently in the running for the male lead part, Christian Grey! Christian is described as "tall, muscular, and broad-shouldered, with dark copper-colored hair and "smoldering" gray eyes" so we're not too sure that Hunnam fits the part exactly. The Wrap is saying, however, that Christian's casting won't be made until after the filmmakers know who will play Anastasia, so the wait continues!
While the casting is still a mystery, keep voting in our fantasy casting lists for who you think should be Anastasia, Christian, and the other characters in the series!
Would Dakota Johnson be a good Anastasia?
Would Charlie Hunnam be a good Christian?
---
---
Ad blocker interference detected!
Wikia is a free-to-use site that makes money from advertising. We have a modified experience for viewers using ad blockers

Wikia is not accessible if you've made further modifications. Remove the custom ad blocker rule(s) and the page will load as expected.