As per the sources identical twin brothers John and Edward Grimes, who are better known as Jedward will be associated with the Fifty Shades of Grey movie adaptation. The producers of the film are busy in putting the last minute touches to the movie and are busy with the post production details. You can read the full detailed post here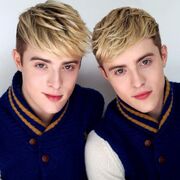 .
Ad blocker interference detected!
Wikia is a free-to-use site that makes money from advertising. We have a modified experience for viewers using ad blockers

Wikia is not accessible if you've made further modifications. Remove the custom ad blocker rule(s) and the page will load as expected.