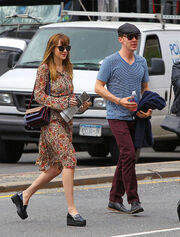 So what is it we hear about Dakota Johnson dating the "Sherlock"? We are all wondering if she really is dating Benedict Cumberbatch. They are reported to first meet at the MET Gala event held in the Big Apple. Also told that Benedict was seen covering his face with napkins which made Johnson laugh. If this is true about them dating then it will definitely be heart breaking for all the female fans of the 'Sherlock' but it also means good news for him as he was single for a couple of years. Anyway, there has been no confirmation to this rumor or on whether Dakota and Jordan Masterson are broken up. Also, before all this, Cumberbatch was dating Fashion Designer Anna James in 2012.
The Movie Fifty Shades Can it be tasteful and artistic? Which none of us would ever associate with [http:// http://www.anastasiasteeleandchristiangrey.com/category/50-shades-of-grey-movie-2/ 50 Shades of Grey] - the book! The actress Eloise Mumford who plays Katherine Kavanagh (Kate), roommate and best friend of Anastasia Steele, in the movie thinks that it will gain acknowledgment differently as that of the book. She adds about the director by saying that Sam Taylor-Johnson is such a great director and Seamus McGarvey is the cinematographer of the film who did Anna Karenina. She says that it is going to be beautiful and more than anything else the story is really about love and romance. Lastly, she says that Jamie Dornan and Dakota Johnson is the perfect pair to play the leads.- See more at: http://www.anastasiasteeleandchristiangrey.com
Ad blocker interference detected!
Wikia is a free-to-use site that makes money from advertising. We have a modified experience for viewers using ad blockers

Wikia is not accessible if you've made further modifications. Remove the custom ad blocker rule(s) and the page will load as expected.