UPDATE: Click here to vote for your favorite look!!
Contest
Have you ever dreamed of having your very own date with Christian Grey? Maybe you picture him whisking you off your feet to take you for the ride of your life in Charlie Tango... or maybe Taylor picks you up to meet Christian at a swanky restaurant... or maybe you even get to visit the infamous Red Room.
The big questions is- what would you wear?! For this month's Closet Confidential, we want you to create a bold or, dare we say, sexy outfit for your dream date with Christian Grey. Have fun with it!

Here's how to Enter:

1. SIGN IN: You must be a registered user logged in to Wikia. Create an account here!
Note: You MUST leave a logged in comment to win.
2. CREATE: Create your own formal date outfit for a night out on the town with Christian Grey.
3. CHOOSE: Choose four or more of the following for your outfit.

Hair
Accessories (hats, gloves, stockings)
Jewelry
Top/Dress
Bottoms/Skirt
Shoes
Makeup/nails
Red Room Item (whip, hand cuffs)
4. COMMENT: In the comments below, submit a list of links to the pieces of clothing you choose. You can also create a Pinterest or Polyvore board.

Check out my dream date outfit: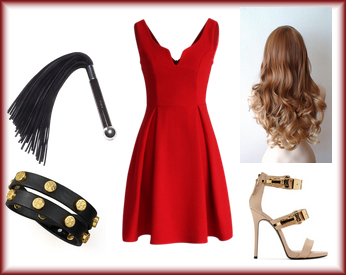 Prizes:

One lucky winner will win a copy of Fifty Shades Darker and Fifty Shades Freed!
(Please note: Only entrants ages 15 & over from North America/Europe are eligible to win).
How to Win:
On February 13, the submission period closes. A group of Wikia judges will come together to choose the top entries. We will post the finalists on the Fashion Wikia and leave the winner up to YOU and the community to vote. On February 20, we will announce the winner!

Share The Contest!
Ad blocker interference detected!
Wikia is a free-to-use site that makes money from advertising. We have a modified experience for viewers using ad blockers

Wikia is not accessible if you've made further modifications. Remove the custom ad blocker rule(s) and the page will load as expected.