Katherine (Kate) Kavanagh

Student / Journalist
Age
22
Lives
Seattle, WA
Spouse
Elliot Grey
Family
Ethan Kavanagh
Children
Ava Grey
Portrayer
Eloise Mumford
Katherine Agnes "Kate" Kavanagh is Anastasia Steele's best friend and roommate. Kate gets into a relationship with Elliot Grey, who she meets at a bar while celebrating the end of finals week with Ana, José, and Levi.
Biography
Edit
Kate and Ana met as freshmen at Washington State University Vancouver (WSUV), and have been roommates for four years. Kate comes from a wealthy family; her father, whom Christian respects for his "shrewd" and "rational" business sense, is the founder of Kavanagh Media. She has an older brother named Ethan.
Kate is an aspiring journalist and was the editor of WSUV's student newspaper. After graduating from WSUV, she has an internship lined up at The Seattle Times. Kate gave the valedictorian speech at their graduation, implying that Kate's grades are as good or better than Ana's (who already had a 4.0 GPA).
Personality
Edit
Kate is Ana's polar opposite: Ana is shy, dreads shopping, and perfers to keep to herself; Kate is outgoing, fashionable, and makes friends easily. Kate is also described as "vivacious", "confident", and "strong-willed".
Kate is an aspiring journalist, and has a tendency to question people relentlessly; Ana nicknames this the "Katherine Kavanagh Inquisition".
Appearance
Edit
Kate is described as having strawberry-blonde hair, green eyes, and a curvaceous body. Ana says that Kate is so beautiful that it makes men "tongue-tied".
In the Books
Edit
Kate badgers Christian's PR department for an interview; Christian is impressed with Kate's tenacity and agrees to meet with her. Kate comes down with the flu on the day of the interview and sends Anastasia to do the interview for her.
Kate encourages Ana's budding relationship with Christian at first, but becomes suspicious of him when Ana starts acting uncharacteristically moody. Christian and Kate clash when she confronts him for making Ana cry; from that point on, they intensely dislike each other, but act civil for Ana's sake. Kate is one of the few people to point out when Christian's behavior around Ana seems controlling or dangerous. Ana forgets that she left a printed copy of Christian's BDSM contract in a coat pocket hanging on her bedroom door. When Kate discovers the contract, she is livid, and confronts Christian and Ana. By that point, Christian and Ana had agreed to a "vanilla" relationship, but Kate was still afraid that Christian was harming Ana in some way.

Kate has more experience with sex and relationships than Ana at the start of Fifty Shades of Grey. Kate lost her virginity in high school, after going to prom; she says the sex was awful, she was drunk, and that she wasn't emotionally ready. Her only serious boyfriend has been Elliot Grey. In Fifty Shades Freed, Elliot proposes to Kate during their Aspen vacation in front of all their friends. Kate and Elliot eventually have a daughter named Ava Grey.
Film adaptation
Edit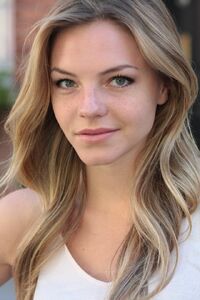 On November 22, 2013, it was announced that actress Eloise Mumford will be portraying Kate in the film version of Fifty Shades of Grey, which is slated for release on February 13, 2015.