About
Grey will be a new version of Fifty Shades of Grey (book), but from Christian Grey's point of view. It will be published on his birthday, June 18.
Background
"Christian is a complex character," James said, "and readers have always been fascinated by his desires and motivations, and his troubled past. Also, as anyone who has ever been in a relationship knows, there are two sides to every story. It's been a great pleasure to return to my happy place—writing, being with Christian and Ana in their universe, and working with the fantastic team at Vintage."
Stolen
The manuscript was stolen on the 10/06/2015.
Full Cover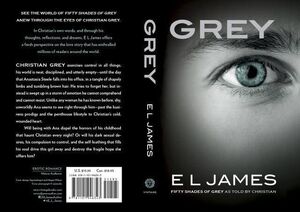 Ad blocker interference detected!
Wikia is a free-to-use site that makes money from advertising. We have a modified experience for viewers using ad blockers

Wikia is not accessible if you've made further modifications. Remove the custom ad blocker rule(s) and the page will load as expected.