Carrick Grey

Name

Carrick Grey

Gender

Male

Age

Unknown

Spouse

Nicknames

Cary (by Dr. Grace Trevelyan-Grey)

Occupation

Lawyer

Children (adoptive)

Grandchildren
Carrick Grey is the adoptive father of Elliot Grey, Mia Grey, and Christian Grey, and husband to Dr. Grace Trevelyan-Grey.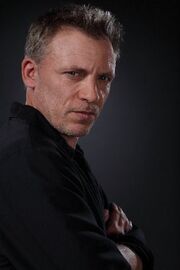 He will be portrayed by Canadian actor
Andrew Airlie
in the film adaptation as stated on the 'Fifty Shades of Grey' IMDB.
He is a very successful lawyer and businessman. He and his wife Grace were originally from Detroit, Michigan, but moved to Seattle, Washington after adopting Elliot and Christian. They adopted Mia later on.
In the Books
Edit
Fifty Shades of Grey
Edit
Carrick meets Ana when Christian brings her to his family's home to meet them. Elliot and Kate are there as well.
Fifty Shades Darker
Edit
Carrick invites Christian to his charity event. Christian brings Ana along-side with him.
Fifty Shades Freed
Edit
Carrick wants Christian to get a pre-nuptial agreement, but Christian angrily refuses. Ana is offended by the suggestion.
Carrick is the prosecution lawyer in the trial against the drunk driver who injured Ray Steele, José Rodriguez, and José Sr.
He thanks Anastasia for saving his daughter Mia in a kidnapping incident.
Relationships
Edit
Carrick Grey married Dr. Grace Trevelyan and together they adopted three children: Elliot, Christian and Mia.